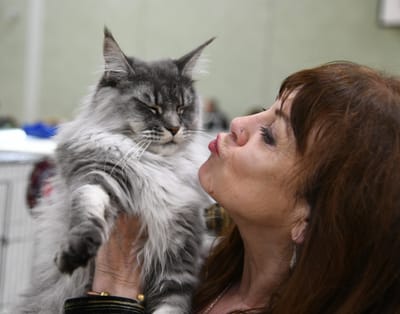 About Us
Hi everyone,
Welcome to VESSONGS MAGICAL MAINE COONS.
We are Pauline & Roger Richardson and live in a cottage in Derbyshire.
We have a small breeding /show cattery specializing in Maine Coons.
The first contact with the show world for Pauline was with her father who ran a Salon & Kennels for Wire Haired Fox terriers.
We got married and within a short time had started to collect a dog and cat menagerie.
We first ventured into the show world with Old English Sheep Dogs, having great success.
This started us off into an 18 year showing/ breeding/judging life with dogs.
We moved into the Toy breeds in the early 80's with BICHON FRISE.
We had by this time a grooming facility so with Pauline's background as a hairdresser and stylist grooming became second nature.
We ran cats alongside our many dogs and always have.
We visited the Supreme Cat Show many years ago and decided to venture into having a Maine Coon.
Our first cat was from the ELMCOON cattery, MARVELLOUS MARVIN.
The cat became very well known and took us straight from new comers to main campaigners.
We have since developed our own lines of stock, and breed very occasionally, mostly to suit cats being required to keep up both the quality and the ability to show.
All our cats and kittens spend time in and around the house, with each other and with the dogs.